Jonathan Schoop had a rough stretch with the Milwaukee Brewers last season. Should the Brewers bring the infielder back in 2019?
The Milwaukee Brewers certainly did their best to return to the World Series for the first time since 1982. They traded for Christian Yelich before the season, and signed Lorenzo Cain as a free agent. Then, during the season, the Brewers traded for Mike Moustakas, Gio Gonzalez, and Jonathan Schoop, moving the former Orioles second baseman to short in an attempt to maximize their offense.
While the Brewers ended up falling just short of that goal, their acquisition of Schoop failed. He struggled mightily in Milwaukee, posting a .202/.246/.331 batting line in his 134 plate appearances, with just eight extra base hits and 41 strikeouts. Although he was solid at second and short, those offensive issues detracted from whatever value he provided with the glove.
This leaves the Brewers in a quandary this offseason. Schoop is eligible for arbitration for the final time this offseason, and is projected to earn $10.1 Million, a modest raise from his $8.5 Million salary this year. For his part, Brewers general manager David Stearns says that a decision has not yet been made on Schoop's future with the franchise.
More from Call to the Pen
It is understandable why the Brewers are being deliberate in their decision with Schoop. Just last season, he was an All Star, posting a career best .293/.338/.503 batting line, hitting 32 homers and 35 doubles. While he is never going to be confused for being the most patient hitter, Schoop drew a career best 35 walks in 675 plate appearances, more than his total in 2015 and 2016 combined. The Orioles had hoped that their second baseman had turned a corner in his development, blossoming into the offensive threat they had envisioned.
Those strides forward came apart last year. While Schoop was not terrible during his time in Baltimore in 2018, he was not the star in the making either. Then, he had that disastrous run in Milwaukee, where he was benched for most of the NLDS, appearing in only two of the seven games against the Dodgers.
The problem is, the Brewers paid a high price to land Schoop at the deadline. They not only traded away Jonathan Villar, but highly regarded pitching prospect Luis Ortiz, and minor league infielder Jean Carmona. Nonetheless, the cost to acquire Schoop should not matter, especially as his production in Milwaukee does not match his expected salary.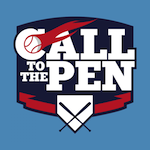 Want your voice heard? Join the Call To The Pen team!
The Milwaukee Brewers will have a decision to make on Jonathan Schoop. Even though they paid a hefty price to acquire him, that should not factor in when it comes to that decision.