The Milwaukee Brewers have several talented catchers in the Minor Leagues, but none has flown as far under the radar as David Fry.
From Payton Henry to Mario Feliciano, the Milwaukee Brewers have more than a few options in the Minors who could become their 'catcher of the future'. However, they also have a catcher at the lowest levels of the Minors who could make some noise. We're talking about none other than David Fry.
Where did Fry come from?
Fry was selected with the 21st pick in the seventh round in last year's amateur draft. He attended Northwestern St. in Natchitoches, LA where he posted an .892 OPS over four full seasons.
How did Fry do in his first professional season?
Fry started the 2018 season with the Helena Brewers in the Rookie League, and all he did was hit. Fry slashed .315/.406/.563 in 261 plate appearances with Helena. He bashed 12 homers, and stole two bases in three attempts.
Fry did advance to Low-A, but he only appeared in two games, and went 2-for-9 with three strikeouts.
Where will he start the 2019 season?
He'll probably start the year in Low-A, but he needs to start advancing soon. Fry stayed for all four seasons of college, and 2019 is his age-23 season.
Will he stick at catcher?
That depends. If the Milwaukee Brewers allow him to develop and give him playing time behind the dish, he might. However, he's already 23 years old and doesn't have a ton of time at catcher in his young career. He split his 2018 season between catcher, first base, and third base, so it looks like the Brewers are already looking to move him from behind the plate.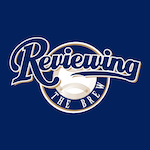 Want your voice heard? Join the Reviewing The Brew team!
Fry is an intriguing bat, but he's not really the Milwaukee Brewers catcher of the future. He has shown a solid eye, and has power, but the defensive aspect of his game needs to develop. Due to his age, a future at catcher isn't his best bet at advancing in through the Minors. Keep an eye out for Fry's name in the boxscores, and pay attention to where he's playing, and how he's hitting.